Massive Evolutions 2
Dubstep VST/Synth for Kontakt, Neurofunk, Complextro Synths, wobbling Basses, Pads, Arpeggios & FX :: Massive Evolutions 2
Content / Features
FAQ for installation
Mac User should read our
contains the ME2 Client & all Sound Packs
2.8 GB of innovative & post-processed sounds
Leads, (Neuro)Basses, Droid Sounds, Drops, Transitions, Arpeggios, Pads, FX...
formant / vowel filters (see video)
innovative concept
one MEII instance for up to 10 Synth lines (see video)
increasing sound pool
new presets will be offered over time
for all kinds of EDM or electro based projects
like Dubstep, DNB, Drumstep, Chillstep, House, NeuroFunk, Complextro, Trap,...
for productions where innovative sounds are required (quickly)
like Modern Cinematic Projects,TV Commercials or Game Music
for the Sound Designers
create your own presets or even add own sounds (read the advanced user guide)
for the Live-Acts
perform your projects live on stage
for the Cinematic Artists
modern sounds & intuitive work flow
free taster available for download
full version of Kontakt 5 (or later) required
OSX 10.9.0 (or later), Win 7 or 8 (32 or 64 Bit, current service pack)
you want to add own sounds?
contact us
Genre
All kinds of EDM and synth-based music like Dubstep, Drumstep, Chillstep, Complextro, House, Drum & Bass (DNB), Trap, Hip Hop, Synth Pop, Cinematic Music
Price
EUR 65
instant download
~2.8 GB
Info

MAIN CONCEPT
The Massive Evolutions II was especially designed for electronic music where synth swappings & unique sounds are important like Dubstep, Neuro Funk or modern Cinematic Productions like TV Commercials or Game Music. It is addressed to ambitious Sound Designer/DJs (customizable presets), to Live-Acts (easily, dynamically playable) as well as to cinematic producers who need to work fast without having to abandon quality e.g. with tv productions or advertisement projects
Load up to 10 presets and sound variations from a large pool and switch between them only with a f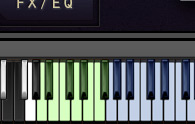 ew Key strokes via dynamic key switches (green keys).
The initial basic sound pool contains lots of different Leads, Basses, Pads Arpeggios, FX with several sound variations of each Synthesizer which let you "morph" the Sounding individually during your performance. So the Massive Evolutions II works well with live performances and of course also with studio productions. Especially regarding Dubstep, NeuroFunk, Complextro, NeuroHop and all Synth based productions where many Synth variations or interesting & cutting-edge Synths are important. Since many Synths are also post-processed with lots of innovative FX, most of the sounds can not be found in any regular Synthesizer.
---
LIVE PERFORMING
Use the Massive Evolutions II to perform live on stage and bring your whole project to your keys since you can add your own sounds relatively easy. If you want to learn more,
contact us
---
MIDI CONTROLLER & CUSTOM PRESETS
Many parameters like Envelope Generators, LFOs, (Vowel) Filters, Send FX can be performed live via custom MIDI controllers. You can also access all Kontakt recourses in the extended edit mode (see the advanced user guide) and build custom presets with own FX and LFO's. Kontakt still remains a sampler, but the extendible sound pool – and the controllable parameters via MIDI controllers give you quite a sufficient Synthesizer feeling.
SOUND CONCEPT
The Massive Evolutions II has innovative Sounds for all kinds of electronic music and for modern Cinematic Productions like TV Commercials, Game Music etc. They were all sampled from our own presets with the help of famous Synths which have been especially created and suited for the ME2. Additionally most of the sounds are significantly post-processed with innovative FX to create an unique sound which can't be found in any regular Synthesizer.