☣ Rotten Edge #ME2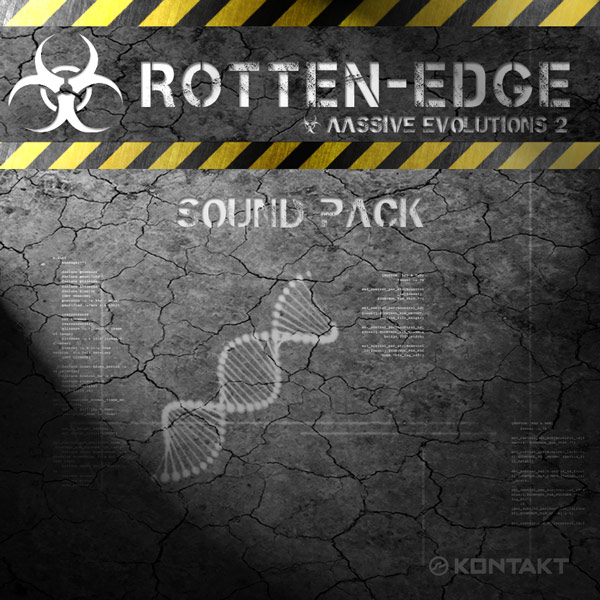 Content / Features
FAQ for installation
Mac User should read our
Over 2.5 Gbyte of Sounds for the Massive Evolutions 2
Filthy Dubstep Arpeggios, Toxic Leads, Wobbling Basses & brachial FX
Recorded in numerous variations controllable by Key-Switches (Kontakt) or macros (Massive)
Massive Evolutions 2 Client required
full version of Kontakt 5 required
OSX 10.9.0 (or up), Win 7, Win 8, Win10
DOWNLOAD
digital download (~2,4 GBytes)
user should read our FAQ for installation
Info
Rotten Edge
This is an extension pack (additional sound pack) for the Massive Evolutions 2 for Kontakt. The Massive Evolutions 2 Client is required! There is also a bundle with all Sound Packs (including Rotten Edge). The Rotten Edge Pack contains dirty & aggressive Leads, Arpeggios, Basses & FX, which have been especially designed for filthy EDM (Dubstep).
Massive Evolutions 2
Load up to 10 Synths into the slots and use the key switches, to swap them dynamically. Change the complete bandwidth of a sound, from sustaining to wobbling (slow, fast, in triplets...) across dark to screaming, you name it, with only a few key strokes, so that expensive hardware-controllers with plenty of knobs aren't necessarily required anymore to create filthy Dubstep lines. Use several FX, LFO's, EG's to additionally control the sound like with any regular Synth. Change the speed of arpeggios and all rhythmical patterns instantly via MIDI CC 75 (slower) and MIDI CC 76 (faster). Read the Manual or watch the tutorial videos for more info. With the Masssive Evolutions 2 the craziest Dubstep live performances à la Skrillex shouldn't be a problem any more.
Genre
EDM (Electronic Dance Music) like Dubstep, Chillstep, Drumstep, Neuro Funk, Complextro, DNB (Drum & Bass), Neuro Hop, Trap, Grime

Required
full version of Kontakt 5 required
OSX 10.9.0 (or up), Win 7, Win 8, Win10