☣ Massive Evolutions 2 - Client (Engine) #ME2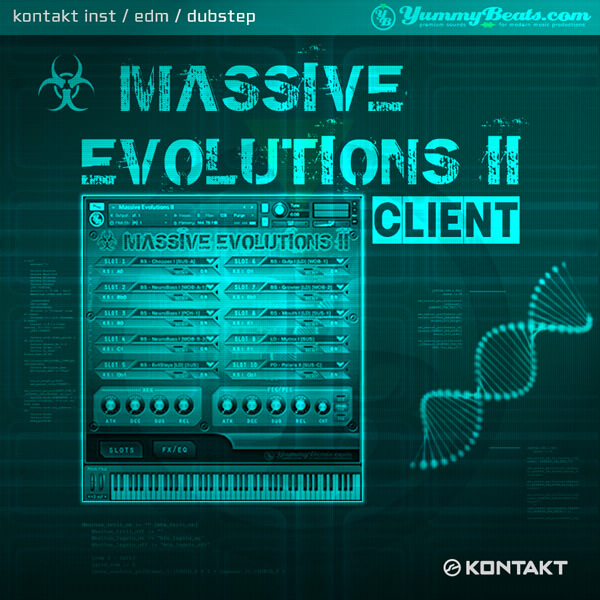 Content / Features
FAQ for installation
Mac User should read our
only client, no sounds included
you need the additional sound packs!
or just get the whole bundle
load up to 10 Synth presets and swap them via key switches (see video)
for all kinds of EDM or electronic projects
like Dubstep, House, NeuroFunk, Complextro, Trap,...
for Sound Designers
create your own presets or even add own sounds (follow the advanced user guide)
for Live-Acts
perform your projects live on stage
for Cinematic Artists
modern sounds, simple & intuitive handling
free taster available
full version of Kontakt 5 or Kontakt 6 required
DOWNLOAD
digital download (~16 Mbyte)
user should read our FAQ for installation
Info
Why the Massive Evolutions 2 shouldn't be missing in any EDM or synth-based production:
Especially its "one-instance concept", the dynamic key switches and the nicely designed vowel filters open up great new possibilities.
One-Instance-Concept
The Massive Evolutions II works like any regular Synth. Load up to 10 Synth Presets into the slots and swap them via dynamic key-switches or change parameters of the current selected preset in real-time. This is great for modern EDM/Dubstep or any other synth-based projects.
Unique Sounds
all sounds are created by the use of many modern Synths and post-processed with modern FX to add a unique character. But you can control the Sounds again with real-time FX like Vowel Filters etc.
MIDI Controller
Many parameters like filter, wobble & LFO speed (MIDI CC 75+76) can be controlled by standard MIDI controllers which simplifies & speeds up any synth-based production.
Vowel & Formants
Most of the Formant & Vowel filters have been designed manually suited to each single preset.
Custom Presets
With the Massive Evolutions II even custom presets can be created by either changing our preset parameters (like adding custom lfos, custom vowel filters, fx etc) or by importing complete own samples. Simply watch our video tutorial and read the Advanced User's Guide (recommended)
Live Performing
We want the massive Evolutions to be fully controllable during live performances thus not only the Dynamic Key switches work great on stage.
Genre
EDM, Dubstep, Drumstep, Chillstep, Complextro, House, Drum & Bass (DNB), Trap, Hip Hop, Synth Pop
Required
full version of Kontakt 5 or Kontakt 6
sound packs (need to be installed separately)
Mac OS X 10.11, macOS 10.12 or 10.13 (current Update)
Windows 7, Windows 8 or Windows 10 (current Service Pack, 32/64-bit)