Modest Guitar - Free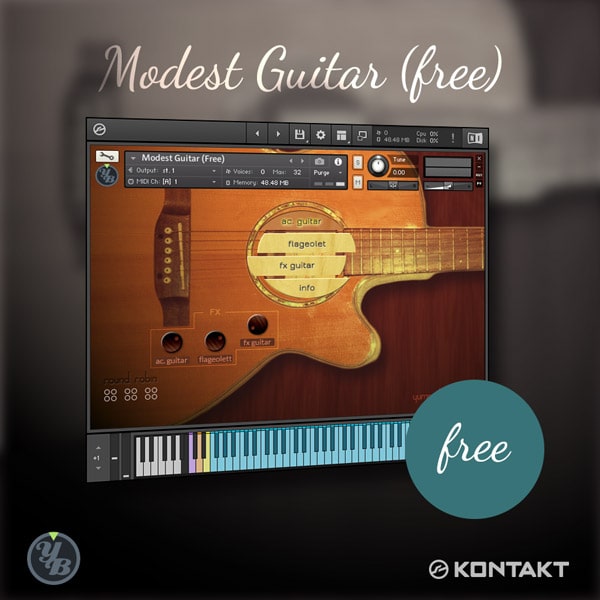 Content / Features
FAQ for installation
Mac User should read our
simple acoustic guitar, flageolets & psychedelic FX guitar)
key switches enable/disable the 3 different Guitars
round robin sampled
for Kontakt 5 / 6 (full version required)
DOWNLOAD
digital download (~50 MB)
user should read our FAQ for installation
Also recommended for you
Info
Since the Modest Guitar was actually made for the advanced round robin tutorial in first place the sampling was not the priority. But we found that it can still sound very beautiful in some situations and decided to also release it as free Kontakt instrument with some additional features.

The Modest Guitar is designed to be warm and organic sounding. There are also some decent guitar player noises on the flageolets which can create an additional pleasant atmosphere.

Key Switches & FX Control
We added a few more features compared to the guitar from the tutorial like key switches and fx control. Use B-1 key to turn off all instruments at once. With C0 (Acoustic Guitar), D0 (Flageolets) and E0 (Psychedelic FX Guitar) you can toggle the single instruments.

All samples have been recorded 4-times and sampled round robin.

Have fun with this free version!

Genre
ambient, folk, indie, rock, pop, country, edm, world-music, psychedelic, etc